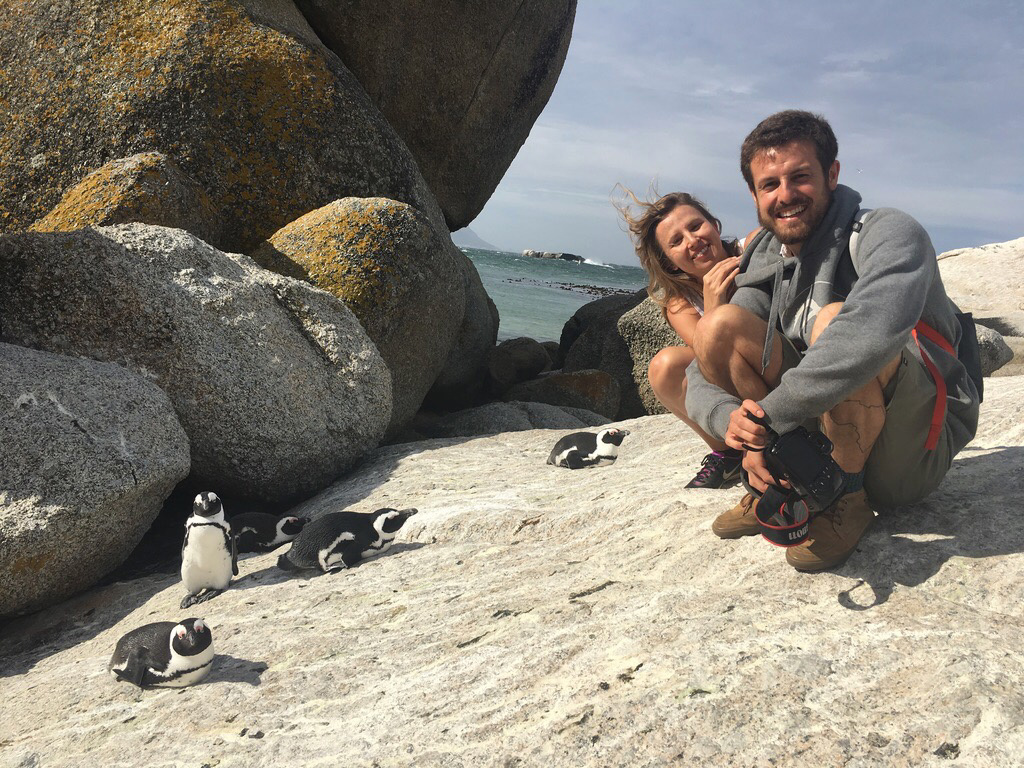 Facilitators: Sebas & Chris (founders)
Content: Storytelling & Empathy
Having guided emotional & physical journeys across Southern Africa, New Zealand and Australia, India and South America, this couple is well versed in the art of exploration and adventure. Passionate entrepreneurs with a heartfelt love for Africa, Chris & Sebas will carefully accompany you throughout the awe-inspiring landscapes of Namibia and South Africa. Sebas previously worked as a CNN Reporter across Africa, and Chris grew up in Cote d'Ivoire who is an internationally renowned non-violent communication activist.
Day 1: arrival & group encounter Cape Town

Day 2: flight to Windhoek (Namibia)

Day 3: (Overland Day 1): Windhoek to Etosha National Park

Day 4 & 5: (Overland Days 2 & 3): Etosha National Park Safari (included)

Day 6: (Overland Day 4): Etosha to Brandberg

Day 7: (Overland Day 5): Brandberg to Swakopmund

Day 8: (Overland Day 6): Swakopmund

Day 9 & 10: (Overland Days 7 & 8): Swakopmund to Sesriem

Day 11: (Overland Day 9): Sesriem to Fish River Canyon

Day 12: (Overland Day 10): Fish River Canyon to Gariep River (South Africa)

Day 13: (Overland Day 11): Orange River to Cederberg

Day 14: (Overland Day 12): Cederberg to Cape Town

Day 15: (Overland Day 13): Farewell to overland group

Day 16: exploring Cape Town and surroundings

Day 17: farewell ):
What will I learn?
How to deepen your connection and understanding of nature

A renewed sense of wonder, self-understanding & resilience

Tangible Storytelling skills

Understanding of Southern Africa's history and culture

A sense of community, friends and stories for a lifetime

Satisfaction of expanding your mental limits through stepping outside your confort zone responsibly
What will we do?
As a conscious community, we will take advantage of the organic stimuli present on any trip, and will turn it into self-understanding and emotional expansion. We will comfortably camp under the brightest starry nights, seek for the Big Five (lion, leopard, elephant, rhino and buffalo), explore the most ancient desert in the world (the Namib) while encountering local tribes off the beaten path, drink wine in family vineyards, and delight our sense of wonder and comfort The Time's coolest city of the year: Cape Town, home to unimaginable history and natural beauty.
What is included?
Flight from Cape Town to Windhoek

Curation and design of experience

Storytelling Workshops w/ Sebastian Castro (founder)

Non-Violent Communication workshops w/ Christine Raine (founder)

All accommodation (camping for overland part, luxury beach front home for Cape Town part)

All meals during overland portion of trip

Tent & mattress for overland portion of trip

Etosha National Park & Naukluft Park Safaris (in our own vehicle)

Guided Climb to Dune 45 (largest in the world)

Sossusvlei guided Visit

Canoeing experience in Orange River

Wine tasting experience in Cederberg (South Africa's prime wine region)

Guided hike to Lionshead Mountain in Cape Town

Professional video of entire experience

OPTIONAL EXTRA ACTIVITIES: Skydiving, optional safaris, desert quad biking, horseback riding along desert beaches, dolphin cruises, sandboarding, scenic desert flight, golf

NOT INCLUDED: flights to and from Cape Town / insurance / visa to Namibia
Investment (including $750 non-refundable deposit)
Wondermoreans (those who've travelled w/ us already): $3250
Early bird: $3650 before Aug 15th, 2019
Regular: $3950 before Dec 15th, 2019
Late bird: $4150 after Jan 15th (subject to availability)
*There is an extra $390 cash payment on site for local communities which is not included in your payment to Wondermore